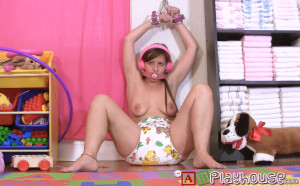 Little Zoe is getting trained to be a little baby!
She struggles against it so she's handcuffed and locked onto a hook in the wall.
Then she's fed a massive overdose of ExLax to prepare her for later.
Then she's gagged with a pacifier gag and given headphones that are playing baby music. Before long she wets her diaper. She'll learn to be a baby yet.
Download Pictures zip (16 pictures)
Download Video in iPhone/Android/etc format