I'm Natalia Chaplin & welcome to my site! =)
I'm a real abdl and I have been for many years now. I'm a switch so you'll see me both in diaper and in the Dommy Mommy roles. I highly enjoy them both equally. =)
I absolutely LOVE everything about diapers. I live 100% in the lifestyle and play with all aspects of diaper play. But on this site I mostly explore adult baby and age play components of diaper fetish. I have so much fun with age play and so do my friends 😉
Yes, I wear diapers when I'm off camera, too. Really, I think I'm lot like you – only I do this…lol. Well, I'm also a model & an aspiring independent horror movie producer. =) And I used to be just a suppressed bookkeeper. Despite all that I still believe myself to be a pretty normal person. lol
I love so many aspects of diaper fetish I'm not sure what my favorite is. There's just something about the way it feels when you're wearing one. I don't know how to describe it, but as a fellow diaper lover, I'm sure you know what I mean. And I love sleeping in a diaper a lot…and I always end up wetting & masturbating at some point every-single-time…lol. Messing my diaper happens a lot as well. Because, well, in my opinion…diapers are for using =D Then there's the punishment & humiliation bits of the fetish that I absolutely LOVE to have fun with… =D As well as many other things. Just look around on the site…you'll see…
Some things you can expect to find on this site: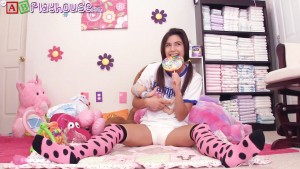 Real adult babies and diaper lovers
Diaper girls. Lots & lots of really hot girls in diapers
Girls Wetting Diapers
Girls Messing Diapers
Diaper Changes
Diapered Bondage
Diaper Punishment
Diaper Enemas – Fleet enemas, Mini enemas, & very full bag enemas
Laxatives, Suppositories, & more!
Much, much, more!
Members get full access to all the photos & videos – all in HD and completely downloadable! =)
I enjoy requests, comments, & feedback. I can also make custom videos just for you =) Please don't be offended as I cannot accommodate all requests, but I do like to keep my peeps happy =)
So come on in & stay awhile….diaper up, maybe regress a little & play! =D
xo-
Natalia