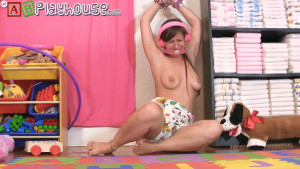 Zoe is in training by Natalia to be her little baby. Not that Zoe particularly wants to be.
She's handcuffed to the wall with a pacifier gag in her mouth and headphones on her head playing baby music. She's been stripped of all her clothes and put into a diaper. If that wasn't bad enough she's been fed a massive overdose of laxatives and has been left alone in a nursery like this.
And now, the laxatives have taken effect.
Zoe poops. And she sure isn't happy about it…
Download Pictures zip (16 pictures)
Download Video in iPhone/Android/etc format