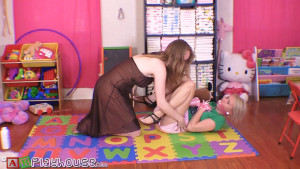 Olivia's been cuffed and gagged with a pacifier gag and brought into the nursery. Natalia tells her that she's going to be her baby now. Olivia protests.
Natalia shows her that she means business though. She threatens her with spankings so Olivia complies.
Natalia pulls off Olivia's panties and puts a big, thick diaper on her. Once diapered Olivia has no choice but to do everything Natalia says. If she has to go potty she is to use the diaper. Olivia cries.
But Natalia wants her to use her diaper sooner than later. She starts to tickle her and tickle her until she wets her diaper.
It works!
Download Pictures zip (26 pictures)
Download Video in iPhone/Android/etc format