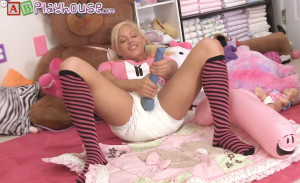 Summer is so gorgeous as she's hanging out naked, wearing nothing but a diaper, and sucking on her Nuk 6 pacifier.
She decides that now it's time to fully regress. She puts her hair in pigtails, puts on knee high socks, and puts a cute tee-shirt on. Looking oh-so yummy as she does so!
Now regressed and enjoying her diaper time she starts playing with toys. When she comes across the big vibrator she knows just what to do with it!
Summers cums so hard like this!!
Download Pictures zip (29 pictures)
Download Video in iPhone/Android/etc format