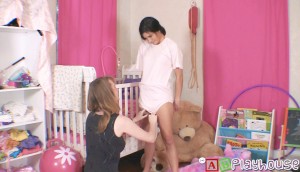 It's time for little Nikki to get ready for beady-bye!
Natalia comes in and undresses Nikki out of her daytime clothes and into a nice, comfy onesie for her to sleep in. But as Natalia gets her all snapped in, Nikki wets her diaper! Natalia notices the wetness happen just as she's snapping the crotch of her onesie!
Well, this is bad timing for little Nikki. She's just gonna have to go to bed in her wet diaper now. She'll have to sleep in it. She'll get changed in the morning.
Download Pictures zip (9 pictures)
Download Video in iPhone/Android/etc format