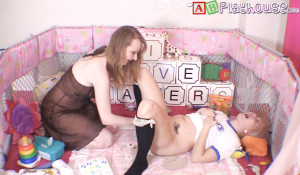 Little babygirl, Olivia is enjoying playing in the play yard with her baby toys when Natalia comes in to check on her. She checks her diaper and she's soaked! No worries, Natalia's more than happy to climb in to change her wet diapee for her.
But as Natalia starts to wipe little Olivia's privates Olivia starts to squirm with excitement! Well, that just makes Natalia wipe her more and more!
Soon enough Olivia has a massive orgasm from the wiping!
Good girl.
Download Pictures zip (20 pictures)
Download Video in iPhone/Android/etc format