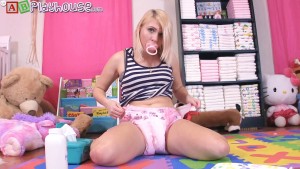 Olivia is so cute and so sweet!
She looks at you and tells you in the cutest, sweetest little voice that she's wet her diapee. She really wishes that you were here to change her diapee for her.
She sucks away on her Nuk 6 binky as she rubs the front of her wet diaper. She's gonna have to change herself now. So she shows you just how she wants you to change it for her.
Out of the old and into the new! She strips off her cute, pink DC Amor diaper and wipes herself nice & clean! She powders herself up & then into an adorable Spoiled diaper!
Nice clean diapee!
Download Pictures zip (22 pictures)
Download Video in iPhone/Android/etc format