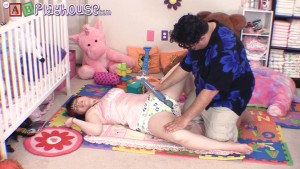 Ami just loves age play and is such a happy little girl playing in the nursery.
She's playing with a magic wand when her daddy tells her that he has a magic wand too. Except his vibrates! And he wants to show her just how magic his wand can be!
He has her lie down and he rubs it on her diaper. Soon enough this little baby girl has incredible orgasms!
That's a very special magic wand indeed!
Download Pictures zip (15 pictures)
Download Video in iPhone/Android/etc format