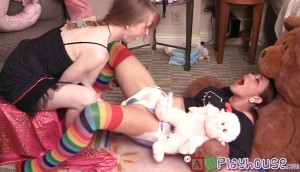 Just try to count how many orgasms this adorable little diaper girl has…and I've never before seen such adorable orgasms (apparently there is such a thing!) that turned me on so much! And oh my did she ever cum SO HARD! This video's made it's way to my own little personal collection of favorites. =)
Riley's laying on floor cuddled up with a giant teddy bear and sucking away on her baby bottle when Natalia comes in with her magic wand vibrator. "How about we introduce this into our diaper play?"
"I like those!" Riley smiles. And with that Natalia strips off the waddle pants little miss Riley Jane was wearing and starts to go to town with the vibrator against her diapered pussy!
AND SHE MAKES THE CUTEST SOUNDS!!
Orgasm One, Orgasm Two…They just keep cumming! She tries to still suck away at her baby bottle. Suck, suck, CUM! Suck, suck, CUM! But eventually the bottle becomes too much for her to hold on to. She drops the bottle & CUMS again! Then some more…then some more…she just keeps cumming!
ONE INCREDIBLY HOT CLIP!!
Download Pictures zip (28 pictures)
Download Video in iPhone/Android/etc format