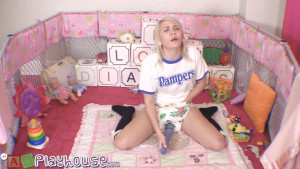 Olivia's such a cutie!
Olicia's playing sweetly in the play yard and being such a good little girl when she comes across the giant vibrator.
Her super thick Safari diaper is completely soaked and bulging and warm and the vibrator pressed against it has such a powerful effect!
As she's getting off on the pleasure of the vibrator against her wet, diapered pussy she reaches into her soaking wet diaper and has a massive orgasm!
Olivia is HOT!!!
Download Pictures zip (27 pictures)
Download Video in iPhone/Android/etc format