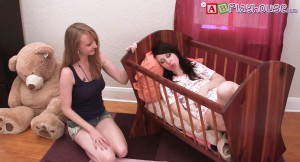 Awwww…such a sweet video!!
Little Dakota…its time for her to get ready for beddie-bye!
Natalia changes her into a nice, fresh diaper, dresses her in a onesie, and sticks a pacifier in her mouth. Dakota is reluctant at first but she climbs into the cradle anyway and Natalia sweetly rocks the big baby into dreamland!
Enjoy! =)
Download Pictures zip (10 pictures)
Download Video in iPhone/Android/etc format